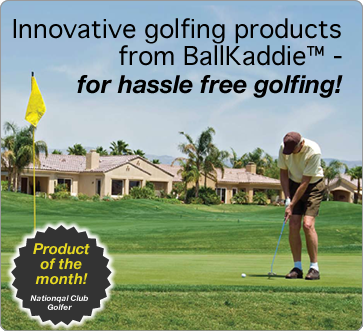 "...Ingenious..."
"Brilliant..... can't believe that no-one has designed one of these before!"
"...especially popular with Corporate clients...."
"...neat, light and time-saving..."
"....Ingenious new device... fast, one-handed action..."

BallKaddie™
Ball Dispenser
Carry your golf balls and access them on the course at the touch of a fingertip
An ingenious new Patent Pending product called BallKaddie™ is set to impose order on golf courses worldwide enabling golfers to store, carry and access their golf balls at the touch of a finger tip.
Over 30 years of commercial experience and a passion for golf has been invested in the design, development and launch of BallKaddie™.
Please visit News section for latest updates